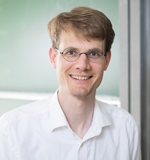 Miscellanea
A browser game and Android app to guess the day of the week for random dates.
An index of seminars 1872 to 1912.
An attempt to formalize Proofs from THE BOOK using Lean.
A bug report and explanation of how to choose a background color.
Combinatorial spheres, polytopes and oriented matroids.
Triangulations of the triangle with equal areas.
This is A186253 in the OEIS.
A visualization of polyhedral containment.
A visualization of cylinders kissing a sphere.
3d animations of all 261 unfodings of the 4-dimensional hypercube.
Generating unfoldings of the hypercube.
Research
Journal papers
Teaching
Wintersemester 2017/18
Wintersemenster 2017/18
Sommersemester 2017